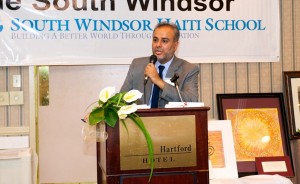 In honor of the Anti-Defamation League's Centennial year, each month ADL Connecticut will feature a "100 Years of Impact" profile about a dynamic leader or leaders whose lives have been impacted by ADL. Dr. M. Saud Anwar, a Pakistani-American Muslim, is a community leader in interfaith work throughout Connecticut.
Dr. M. Saud Anwar is a stalwart in interfaith relations in the Connecticut Muslim community. He is the founder and co-chair of the American Muslim Peace Initiative, which works to strengthen intrafaith understanding within Islam and interfaith understanding between Islam and other religions. He is the founder and past president of the Pakistani American Association of Connecticut and a member and past president of the Pakistani American Public Affairs Committee, a national nonprofit. He was a charter member of the Anti-Defamation League's Interfaith Coalition on Mosques, a national coalition formed in 2010 to support Muslim communities facing discrimination when trying to legally build or expand mosques around the United States. And he was a participant in Connecticut ADL's 2007 Interfaith Mission to Israel, which brought 20 leaders from a variety of religious backgrounds together for a 10-day trip to Israel.
"That mission was a life-changing experience for me," says Saud. "Not only were the people on that trip extremely knowledgeable about and connected with their own faiths, they also knew about and were accepting and respectful of all other faiths. It was a time of immense personal growth for me to be able to interact with my fellow people of faith and to share a link to the holy land. Plus, I got to look at the nuanced views of Israel from everybody else's prism. It was absolutely amazing."
Saud's involvement with ADL began around 2000, years prior to his trip to Israel.
"I reached out to ADL well before 9/11 – it wasn't a reactionary thing," he says. "The work that ADL does resonated very strongly with me because it centers on acceptance, harmony, respect for other members of the community and the importance of standing up for one another."
A member of the South Windsor Town Council and the council's Human Relation's Commission, Saud also makes sure to contact ADL when there's a problem in his schools.
"Whenever children have been bullied or name-calling or cyber-bullying has happened, our first call is to ADL to help us find ways to educate the student body and the teachers on the importance of identifying ways to respect each other," Saud says.
A Pakistani-American Muslim, Saud is well aware of how stereotypes and misperceptions can affect a community – he sees it every day.
"People paint Muslims with a very broad brush," he says. "I'm South Asian, but I'm looked at as Middle Eastern. A lot of people speak Arabic. I'm learning to speak Arabic, but it's not my native tongue and I'm not an Arab. Muslims from South Asia are very different from, let's say, the Muslims of Saudi Arabia in their beliefs, their spirituality, in the manifestation of some of that spirituality. Obviously, we're all Muslims, but there are differences, just like there are differences in the Jewish community as well."
About eight years ago, Saud testified in front of Congress to discuss terrorism, to help explain the similarities and differences between American Muslims and British Muslims, and to share some of the concerns of the American Muslim community.
"It's clear that the American Muslims need to take control of the conversation away from extremists or people with different views," he says.
ADL will honor Saud and his wife, Dr. Yusra Anwar, and sons Taha and Taseen, at its annual 2013 Greater Hartford Torch of Liberty Award Reception and Centennial Gala at 5:30pm on Tuesday, Sept. 24.
"I say to my children that when I see them, they are the fuel that gives me the energy to make this world a better place," says Saud. "We have a responsibility to leave this world a better place for our children and for the next generations. I can't control the results, but I can control my effort."
For more information about the 2013 Greater Hartford Torch of Liberty Award Reception and Centennial Gala, call 203-288-6500 x313.