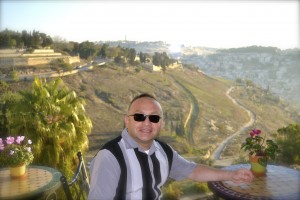 In honor of the Anti-Defamation League's Centennial year, each month ADL Connecticut will feature a "100 Years of Impact" profile about a dynamic leader or leaders whose lives have been impacted by ADL. Werner Oyanadel is the Executive Director of Connecticut's Latino and Puerto Rican Affairs Commission and was one of 19 prominent Latino leaders across the country to participate in ADL's "Latino Leaders Mission to Israel" in 2012.
Werner Oyanadel remembers watching the "A-Team" on television as a child. "One day, there was a tank on the TV," he recalls. "I happened to look out the window and there was a tank there, too. My mom grabbed us and threw us all in the bathtub. It was the safest place in the house if any debris happened to fall."
Werner, now the Executive Director of Connecticut's Latino and Puerto Rican Affairs Commission (LPRAC), grew up in Santiago, Chile, during the Augusto Pinochet dictatorship.
"Because I lived during the dictatorship, I think that's what gave me an interest in becoming involved in issues of social change," says Werner. "I was really affected by the protests that were taking place at the time. I wanted to make a difference, but it wasn't going to be pro-revolution – I wasn't going to be a protestor. I wanted to have a systemic impact, and to do that I would have to study public policy or political science."
In 1987, at age 16, Werner and his family left Santiago for Simsbury, Conn., where his grandmother lived. He attended Simsbury High School, but he struggled because his English was poor.
"I'd studied some British English in Chile, but I couldn't communicate," he says. "In Santiago, if a teacher asked, 'Do you mind coming to the front of the class to say a few words?' I was the first one up. Here, I was dropping my pen so that nobody would see me."
His English quickly improved, and after high school Werner joined the Army National Guard so that he could receive a free college education.  He graduated from Central Connecticut State University and immediately began volunteering at the State Capitol, eventually landing a job as a legislative assistant with the House Democrats. After working as a staffer on several Connecticut campaigns, LPRAC hired Werner as a legislative analyst in 2000.
"It was a great fit for me because in coming to LPRAC, I was able to work on public policy issues that were affecting the Latino community, which is my passion," he says. "I would be able to create social change and impact people's lives, and not in a pro-revolutionary manner. I was beginning to reach a level of influence where I could work on issues that were very dear to me."
LPRAC, according to its website, "is mandated to make recommendations to the (Connecticut General Assembly) and the Governor for new or enhanced policies that will foster progress in achieving health, safety, educational success, economic self-sufficiency, and end discrimination in Connecticut."
Werner rose through the ranks, earning the title of Acting Executive Director in 2009 and Executive Director earlier this year. During his 13 years at LPRAC, he has worked on a number of issues concerning poverty, immigration and equal rights, but he says his proudest moment is the passage of the Connecticut Dream Act, which provides undocumented immigrants who live and went to high school in Connecticut with the ability to attend colleges and universities in Connecticut at in-state tuition rates. ADL has long been an advocate for comprehensive immigration reform and worked with LPRAC to secure the passage of the Connecticut Dream Act every step of the way, testifying to the Connecticut Legislature in favor of the bill.
"Working with ADL on the Connecticut Dream Act really helped me understand the value of ADL's work, both on the state level and nationally," says Werner. "LPRAC knows it has an ally in ADL and we won't hesitate to turn to ADL in future legislative endeavors."
Late in 2012, Werner was one of 19 prominent Latino leaders from across the United States to participate in ADL's "Latino Leaders Mission to Israel." There the leaders learned firsthand about the rich texture and resilient nature of Israeli society, its culture and politics, the complexity of Israel's conflict with the Palestinians and the challenges Israel faces from upheaval and instability in the region. They visited places of religious, political and historical importance and met with representatives from nonprofit organizations, the Israeli government, security analysts, Holocaust survivors, Israeli-Arabs, Israeli entrepreneurs and journalists.
Werner had never been to Israel and didn't know much about the region.
"It's important to learn the history and to understand what is taking place there within a historical and political context," he says. "Israel needs to remain strong. Through strength, it can guide dialogue so that it can remain a power in the Middle East for many years to come."
He added that the trip made him more aware of the work ADL does on a legislative level, and that much of it is similar to that of LPRAC.
"As a Latino leader, I've been on many missions to Latin America, but I never thought I would make it to Israel," he says. "Without ADL, I wouldn't have. There was so much to see! One of the consequences if bringing me over there on this trip was that the mission worked. It's funny, I don't keep in touch with any of the Latino leaders I went with, but I made some good Israeli friends who I still talk to. I have a great connection to the people that I met over there and to the land, and I have to go back."