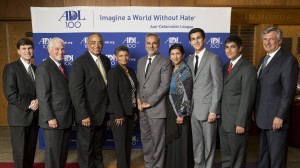 The Anti-Defamation League honored University of Hartford President Dr. Walter Harrison, Connecticut civil rights leaders Deacon Arthur and Sandra Miller, and the Anwar Family, who are Connecticut leaders in the Muslim and interfaith communities, on Sept. 24 in West Hartford.
More than 300 of Greater Hartford's leading citizens attended, including Attorney General George Jepsen, Hartford Mayor Pedro Segarra, Hartford Police Chief James Rovella, and West Hartford Mayor Scott Slifka.
The Torch of Liberty Award celebrates those with a tradition of community service. The commitment to philanthropy and public service demonstrated by Dr. Harrison and the Miller and Anwar families epitomizes the Anti-Defamation League's values and the ideals represented by the Torch of Liberty Award.
"Every year, all of our honorees are deserving of the Torch of Liberty Award, but this year, our centennial year, was particularly special," said Gary Jones, ADL's Connecticut Regional Director. "We had the opportunity to honor people who are part of the ADL family, a family that is comprised of people of all races, religions and ethnicities. The warmth, love and sense of community in the room were palpable. Congratulations once again to Dr. Harrison, Sandra and Arthur Miller and the Anwars. They truly embody ADL's mission, to secure justice and fair treatment for all."